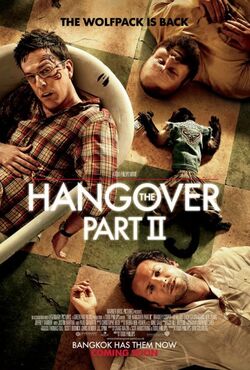 As previously reported, tattoo artist S. Victor Whimill tried to delay release of The Hangover Part II with a copyright lawsuit claiming that the Maori-inspired facial tattoo he gave Mike Tyson was illegally reproduced on the face of Ed Helms. Well, looks like Mike and his tattoo artist got knocked out- the court has ruled in favor of Warner Brothers.
With the film tracking to shatter domestic box-office records, Warner is obviously very pleased with the decision. As am I.
So if you were worried you might not be permitted to see the Alan Garner and the Wolfpack get into trouble in Thailand this weekend, worry no more. Just prepare yourself for a good hangover...
References
Source: cnn.com
Ad blocker interference detected!
Wikia is a free-to-use site that makes money from advertising. We have a modified experience for viewers using ad blockers

Wikia is not accessible if you've made further modifications. Remove the custom ad blocker rule(s) and the page will load as expected.