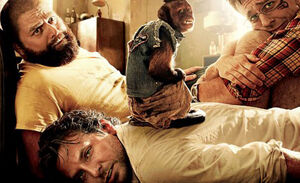 Yesterday, courtesy of Warner Bros. Pictures, we brought you tons of STILLS from The Hangover Part II, the sequel to the smash hit The Hangover. Well now we have more stills for you, this time behind the scenes, showing director Todd Philips talking to his actors, including Zach Galifianakis and Bradley Cooper.
Take a look at the stills and don't forget to enter our Hangover Part II Giveaway!
Ad blocker interference detected!
Wikia is a free-to-use site that makes money from advertising. We have a modified experience for viewers using ad blockers

Wikia is not accessible if you've made further modifications. Remove the custom ad blocker rule(s) and the page will load as expected.