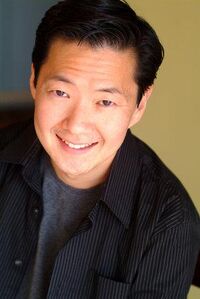 Ken Jeong
plays Asian mobster
Mr. Chow
in both
The Hangover
and
The Hangover Part II
. Jeong currently plays the recurring role of angry Spanish teacher Señor Chang on the NBC comedy series "Community." He will next be seen in Michael Bay's "Transformers: The Dark Side of the Moon," and the comedy "The Zookeeper," opposite Kevin James, both opening in July. His voice will also be heard in "Norm of the North," set for release next year and also featuring the voice of Rob Schneider. He previously lent his voice to "Despicable Me," with Steve Carell, and Jeong also appeared in the films "The Goods: Live Hard, Sell Hard" and "Couples Retreat." Judd Apatow's 2007 box office smash "Knocked Up" marked Jeong's feature film debut, in the role of Dr. Kuni. He followed with his first major role, as villain King Argotron, in 2008's "Role Models." That same year, he appeared in "Pineapple Express" and "Step Brothers." Jeong earned his undergraduate degree at Duke University, his medical degree at the University of North Carolina and completed his internal medicine residency in New Orleans, all while doing stand-up. In 1995, Jeong won the Big Easy Laff Off and was invited to Los Angeles by judges Brandon Tartikoff, the former NBC President, and Improv founder Budd Friedman. Jeong began performing regularly at the Improv and Laugh Factory, and was seen on a number of television shows, including "The Office," "Entourage" and "MADtv." In 2006, Jeong and fellow comedian Mike O'Connell's spoof rap duo, "Million Dollar Strong," posted on YouTube, garnering over one million views.
Ad blocker interference detected!
Wikia is a free-to-use site that makes money from advertising. We have a modified experience for viewers using ad blockers

Wikia is not accessible if you've made further modifications. Remove the custom ad blocker rule(s) and the page will load as expected.