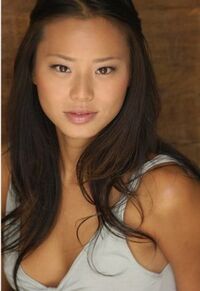 Jamie Chung
plays the part of
Stu
's fiancé
Lauren
in
The Hangover Part II
. She is a Korean-American actress known to audiences as a cast member on the MTV reality television series, "The Real World: San Diego" and its spinoff show, "Real World/Road Rules Challenge: The Inferno II."
Since her stint on "The Real World," she has appeared in various television and film roles, including as Cordy Han in three episodes of "Days of Our Lives," as a Hooters girl in the 2007 comedy "I Now Pronounce You Chuck and Larry," and in episodes of "CSI: New York" and "Veronica Mars."
In the Fall of 2008, she landed a starring role on the new series "Samurai Girl." She also stars as Amber in the 2011 film "Sucker Punch."
Ad blocker interference detected!
Wikia is a free-to-use site that makes money from advertising. We have a modified experience for viewers using ad blockers

Wikia is not accessible if you've made further modifications. Remove the custom ad blocker rule(s) and the page will load as expected.