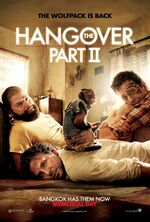 In "The Hangover Part II," Phil (Bradley Cooper), Stu (Ed Helms), Alan (Zach Galifianakis) and Doug (Justin Bartha) travel to exotic Thailand for Stu's wedding. With the memory of Doug's nearly disastrous bachelor party in Las Vegas still fresh — or at least well-documented — Stu is taking no chances. He has opted for a safe, subdued, pre-wedding trip brunch, with pancakes, coffee…and no alcohol. However, things don't always go as planned. Two nights before the big day, at a fabulous resort in Thailand, Stu relents. One beer each. In sealed bottles. What could go wrong? What happens in Vegas may stay in Vegas, but what happens in Bangkok can't even be imagined.
Official Theatrical trailer for The Hangover Part III, coming to theaters on May 24, 2013.
The Hangover smashed box office expectations grossing over $467 million. How will the Hangover Part II fare?

 

Loading RSS data...
Create blog post
So at this point it's pretty evident that The Hangover Part IV is not happening however there are many requests for it, so one never truely knows. In any case I thought of an interesting idea for a f…

Read more >
See more >
---

Ad blocker interference detected!
Wikia is a free-to-use site that makes money from advertising. We have a modified experience for viewers using ad blockers

Wikia is not accessible if you've made further modifications. Remove the custom ad blocker rule(s) and the page will load as expected.