Crystal the Monkey is a female capuchin monkey that portrayted the monkey in the movie.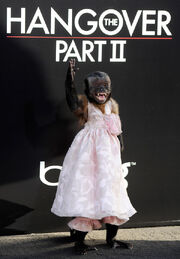 When the monkey smoked in the movie, it was digitally added. Crystal would have died if it was real cigarettes in real life. Todd Phillips joked that Crystal has become addcited to cigarettes.
Ad blocker interference detected!
Wikia is a free-to-use site that makes money from advertising. We have a modified experience for viewers using ad blockers

Wikia is not accessible if you've made further modifications. Remove the custom ad blocker rule(s) and the page will load as expected.